Hello and welcome back to the Austin Family Legacy! Last time, birthdays were had, boyfriends and girlfriends were made and I finally play a vampire, which I have never done. Now on with the show!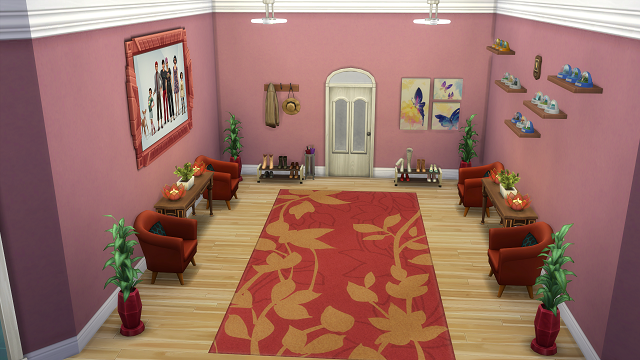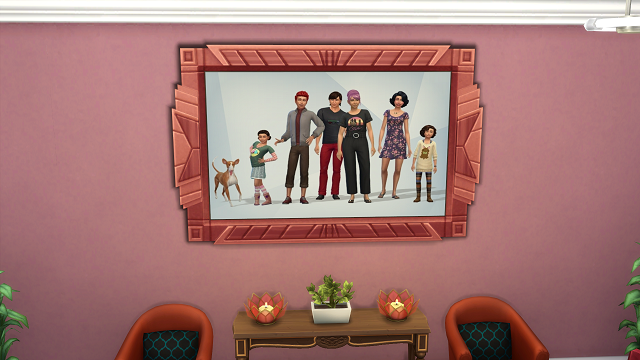 I re-did the front hall and I have to say that I love how it turned out 🙂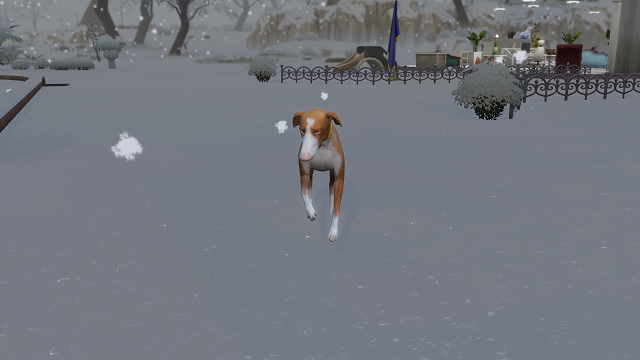 Myrtle does not like blizzards and just kept going out and coming in because she had to pee and she won't do it during a blizzard…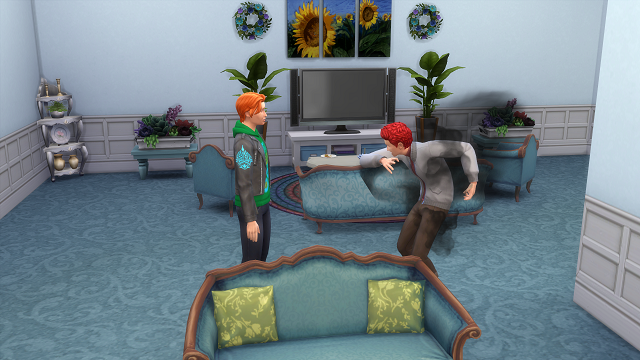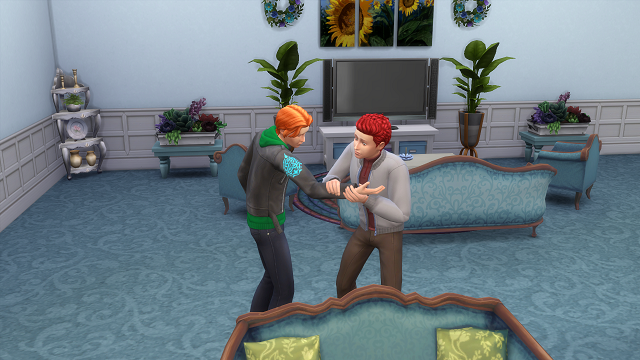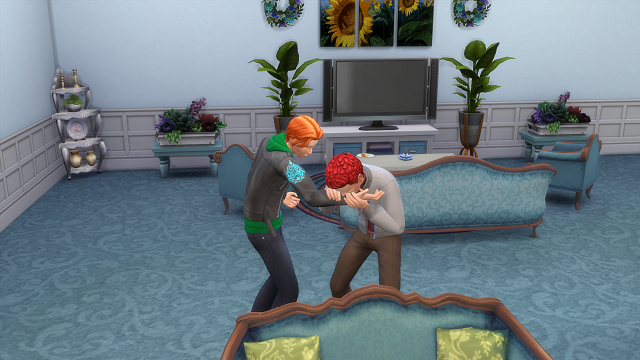 Raphael managed to get permission from his uncle to bite him. Rowan sure does make a great uncle!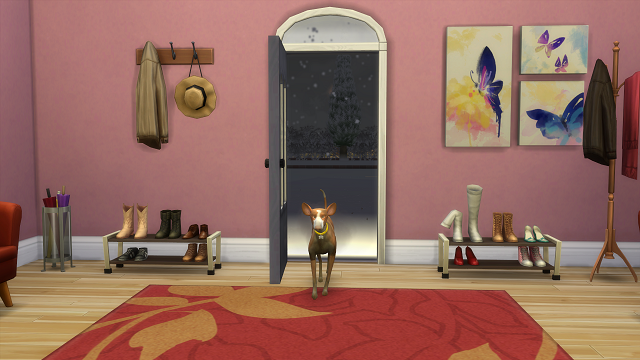 And now she needs a bath.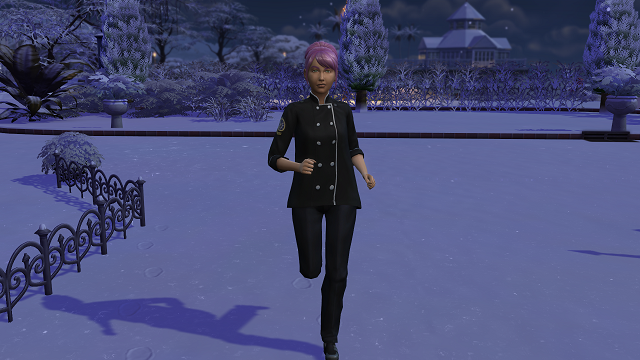 Tiana receives a promotion!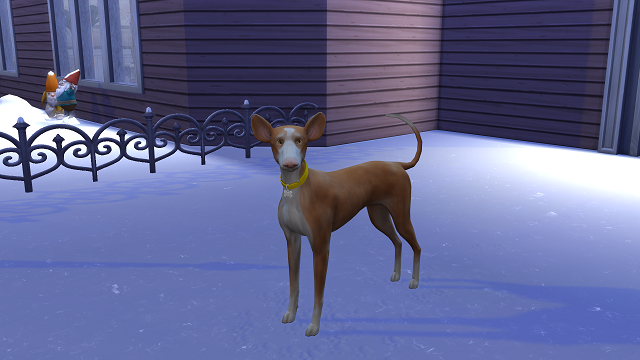 And Myrtle ages into an elder.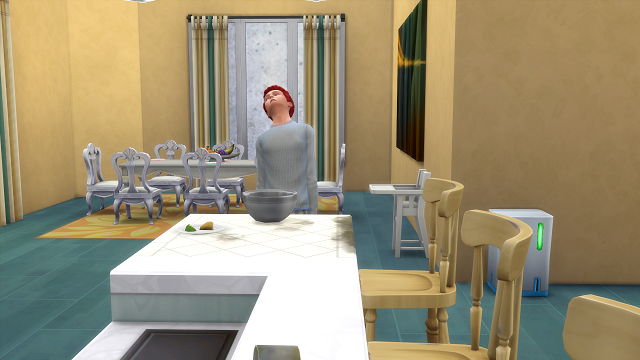 The next day is Raphael's young adult birthday and I had to laugh at the faces he pulled because he had to make his own cake.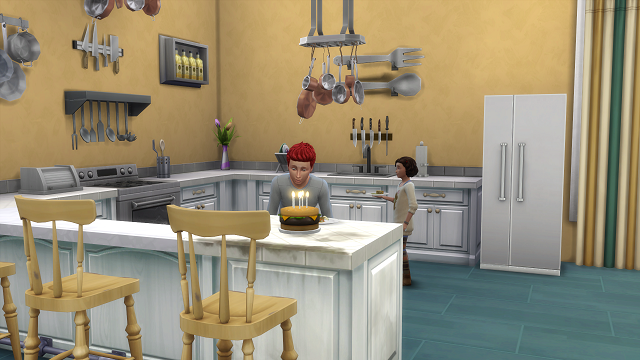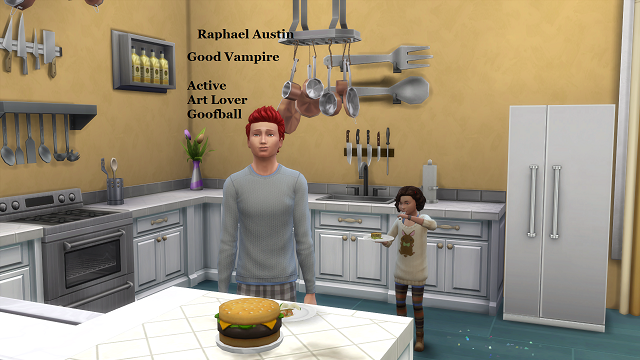 And he adds Goofball to his traits. He also looks the same.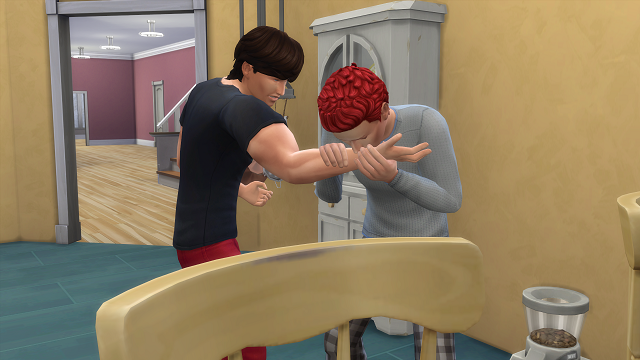 His father finally allows him to take a drink.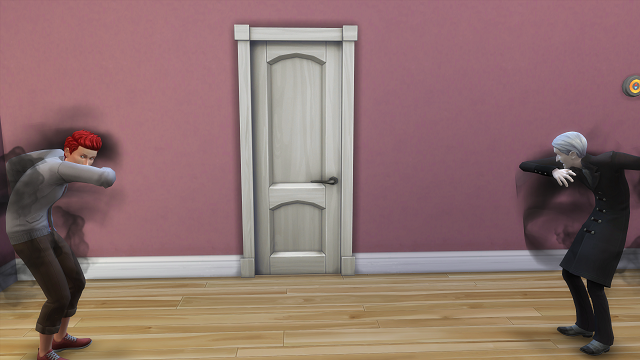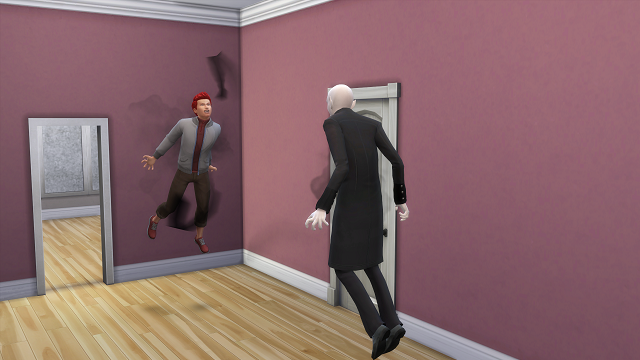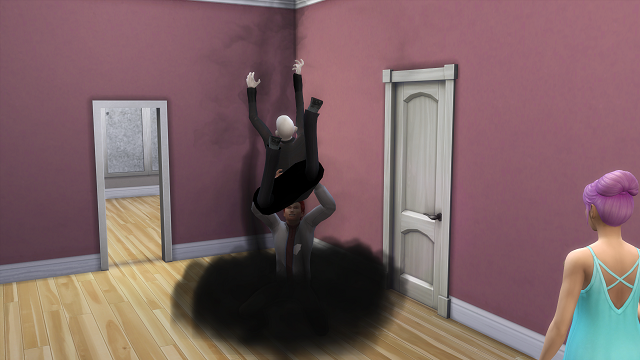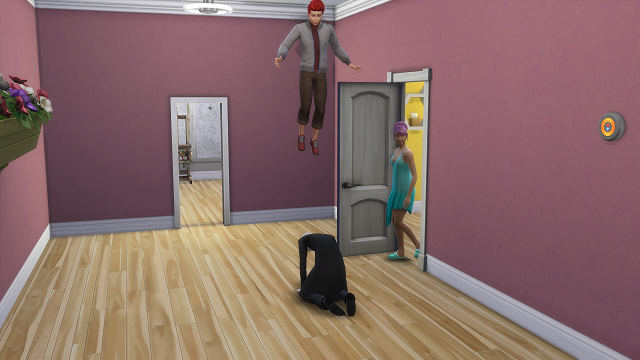 Raphale invites Vlad over to spar. I love this interaction! Raphael also wins, which I was shocked about.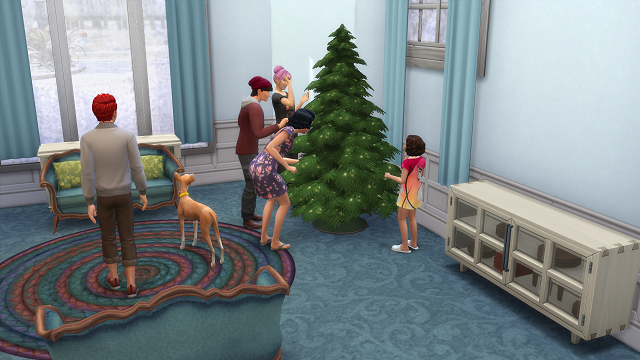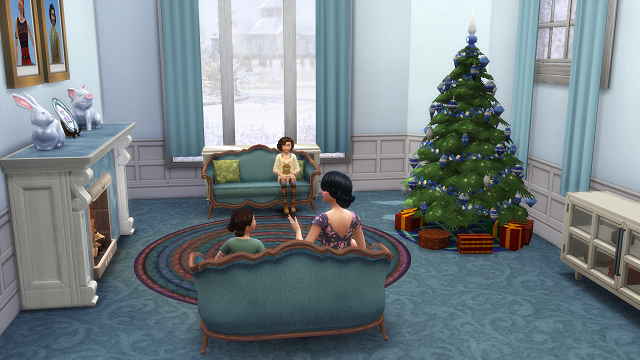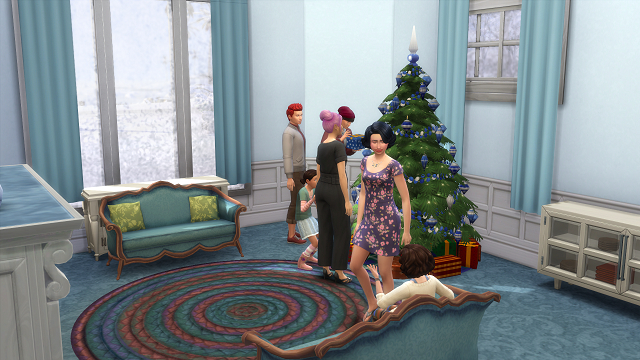 It's that time of year again, and the family decorates the tree together.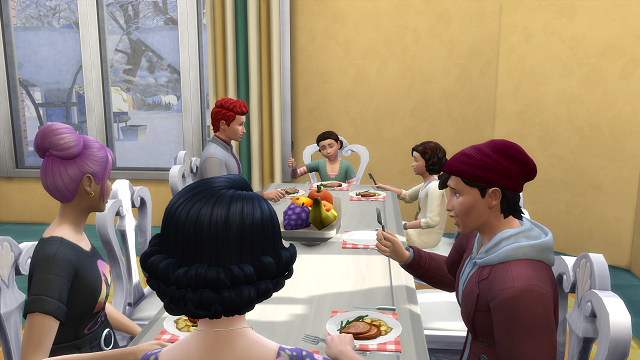 They all sit down for a grand feast, even Raphael who doesn't need to eat.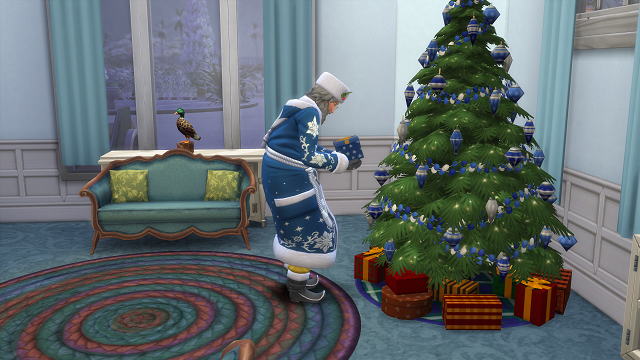 Father Winter shows up and puts some presents under the tree.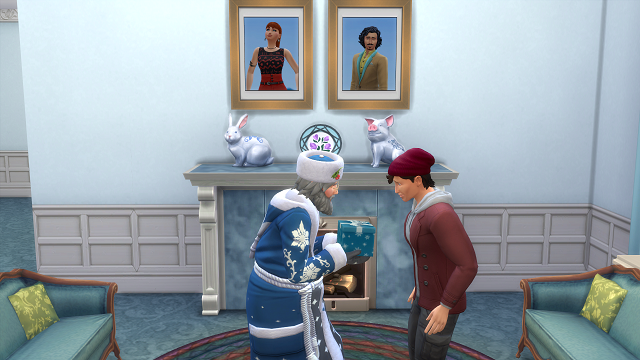 Everyone got their presents from him, but I only took a picture of Jeremy.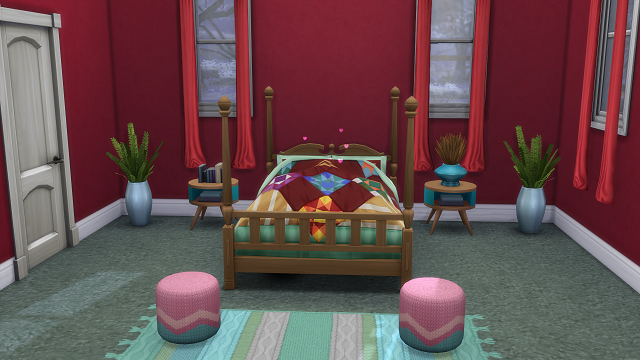 Jeremy and Tiana celebrate the end to a great day 🙂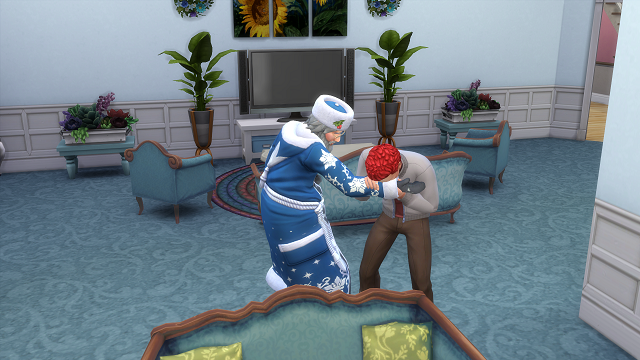 And Raphael manages to get a drink from Father Winter!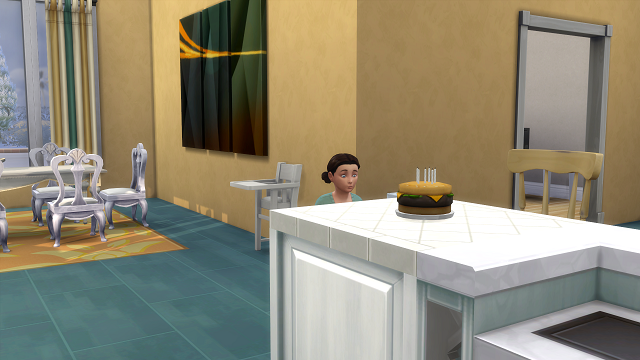 The next day is Lacie's birthday!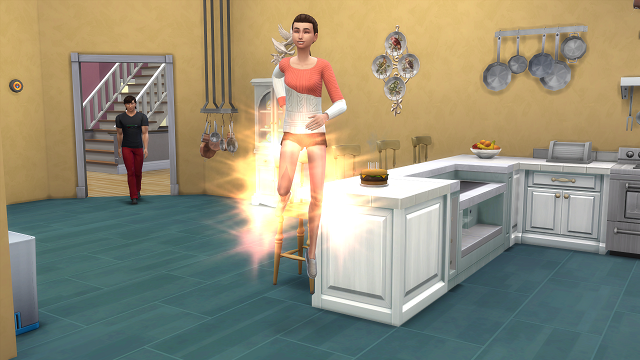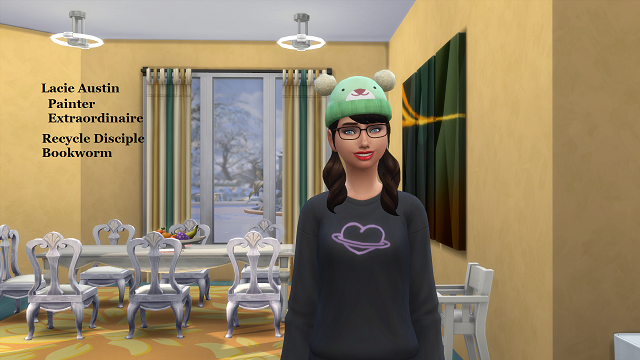 She grew up adorable and I gave her one of the knit hats her mom made. She got bookworm as her trait and her aspiration is "Painter Extraordinaire."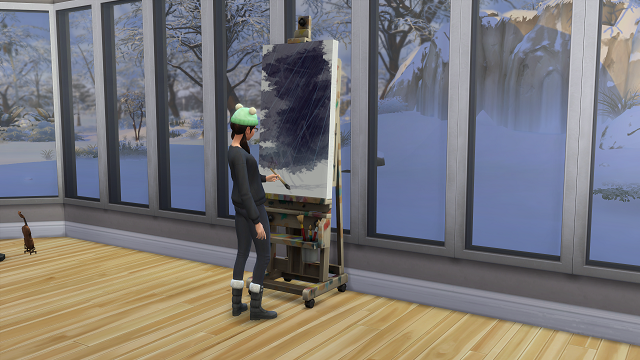 She starts painting right away.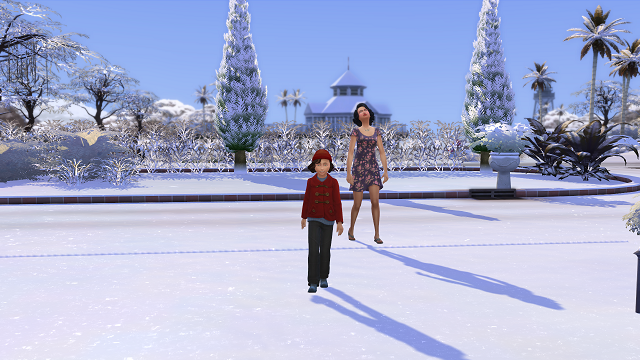 Maggie and Zoey come home from work in two different moods.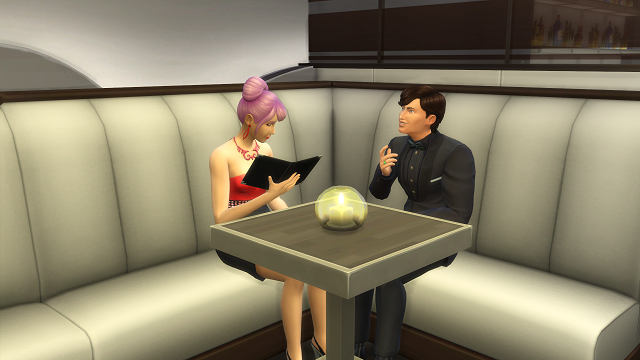 Tiana and Jeremy enjoy a free meal.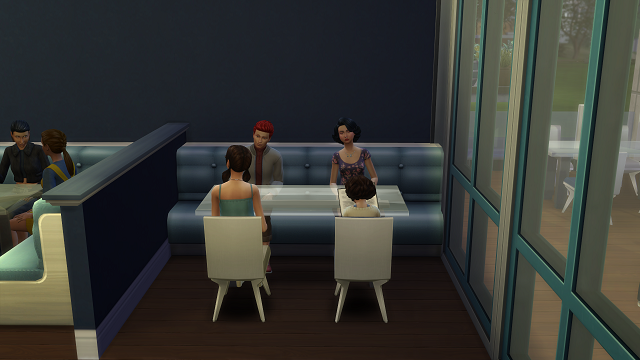 Once Raphael comes home from work, he takes his younger sisters out for their free meal.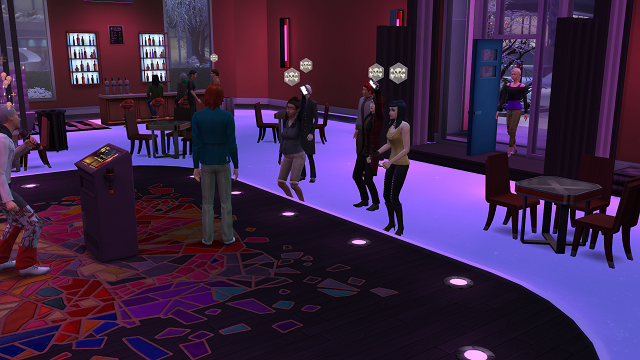 After he sends them home he sets up a club for vampires, so he can work on his vampire skills. They head out on the town and have a great time!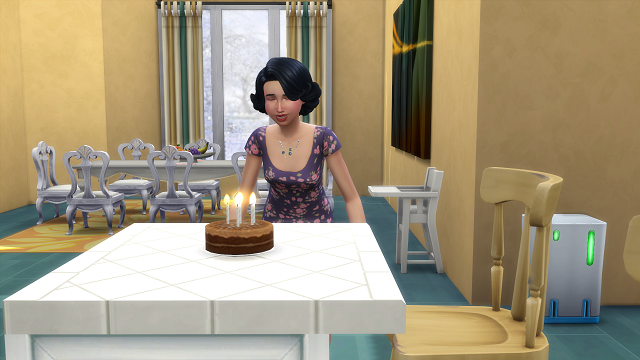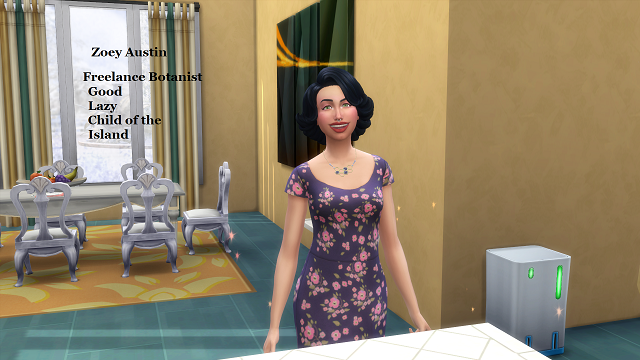 The next day is Zoey's young adult birthday. She adds Child of the Island to her traits and is happy to anounce that she is the heiress! Thanks to everyone who voted!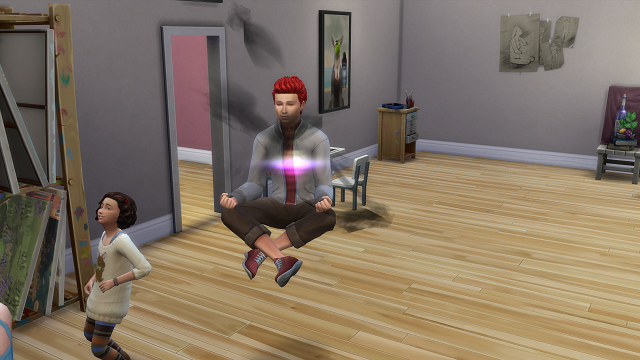 Raphael meditates to build his vampire skills.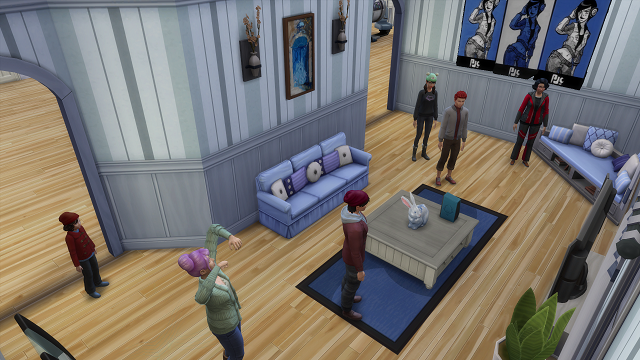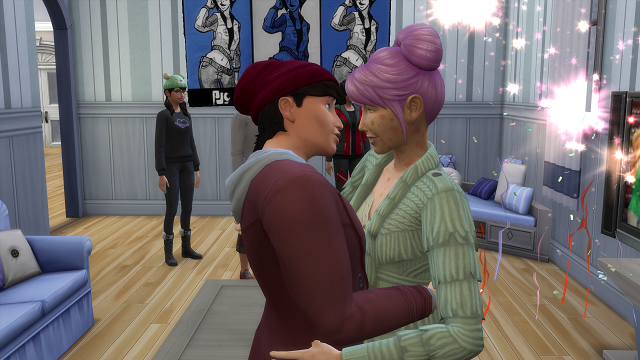 It's new years and the whole family gathers to celebrate. Jeremy gives a very sick Tiana a kiss to celebrate.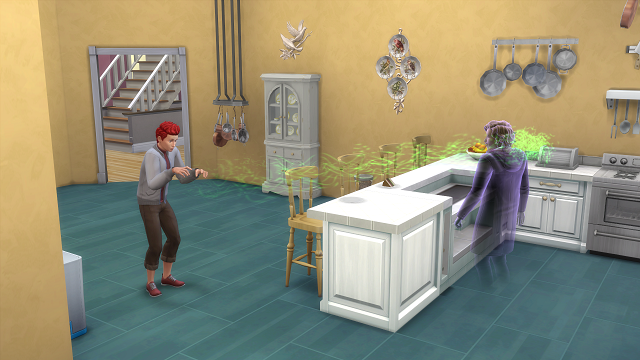 Later that night Raphael uses his new power on his grandfather Chaz.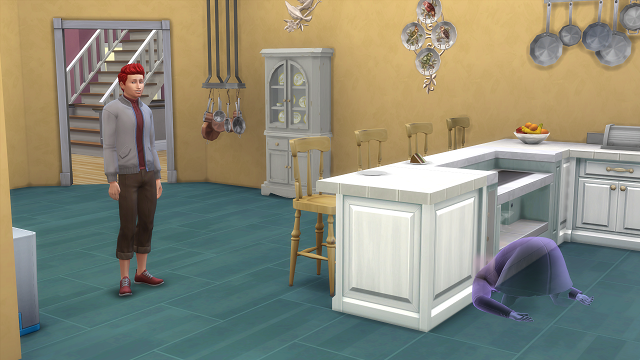 He seems mighty pleased that he put him to sleep.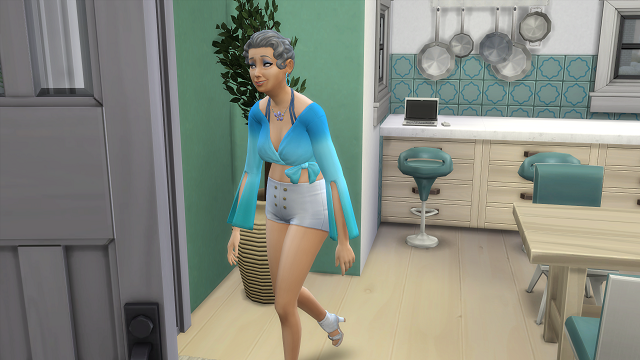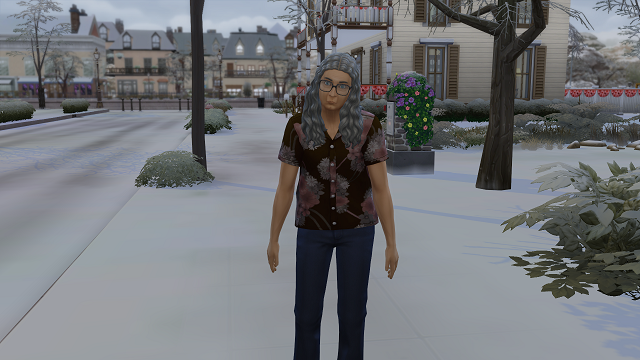 The next day we head over to Kathy and Bobby's house to flag their children so the Austin Family tree doesn't get too big. Look, they've gotten old 🙁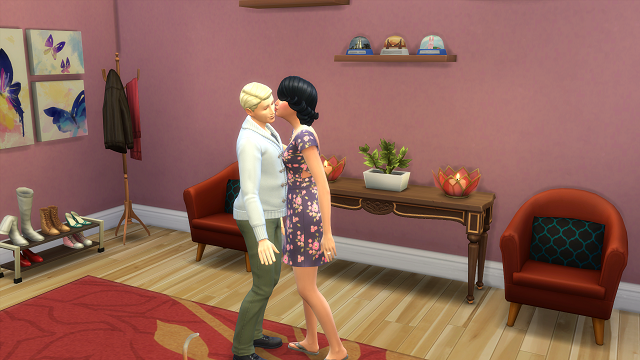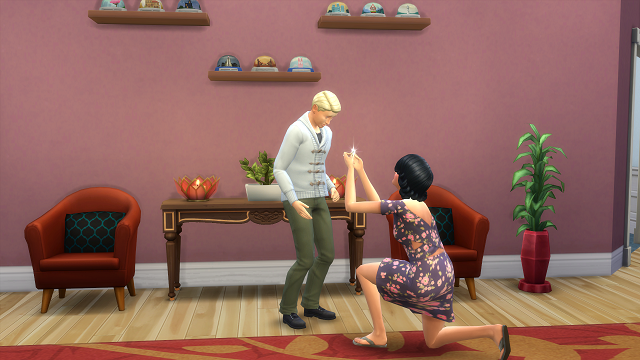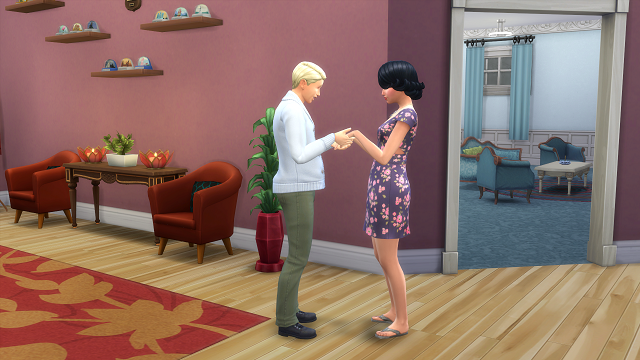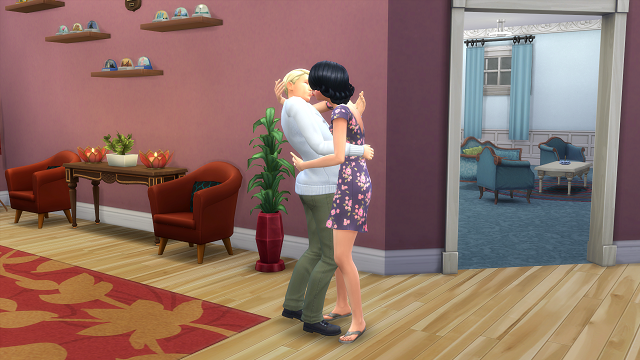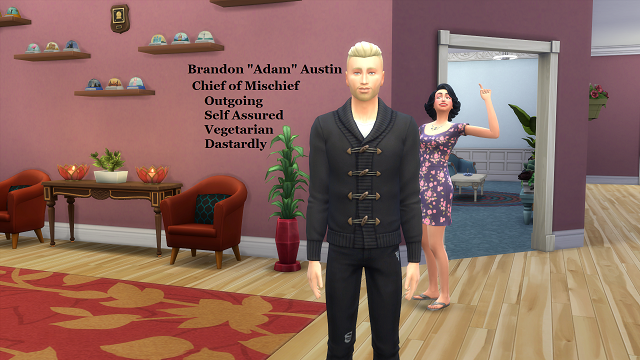 Zoey invites her newly grown up boyfriend over so they can get married. Brandon joins the family! Zoey looks so very happy about it 😀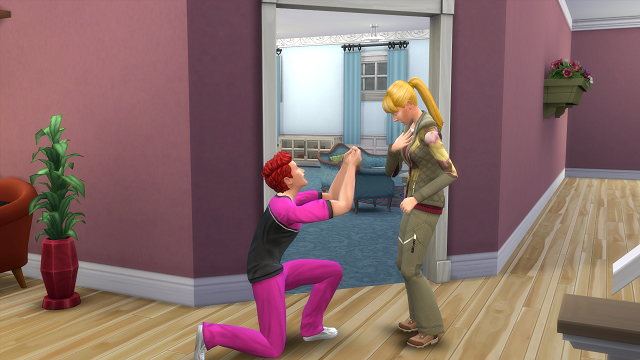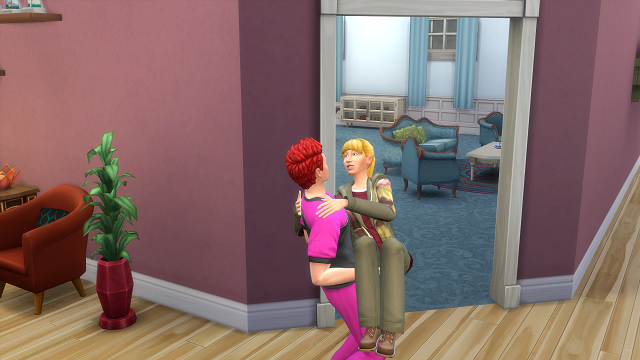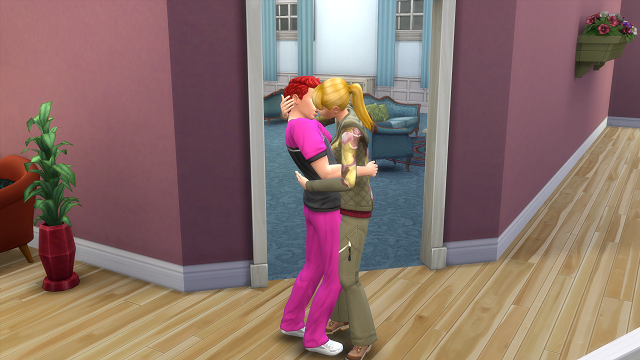 Since Raphael is not the heir, he invites his girlfriend over and they promptly get married and move out.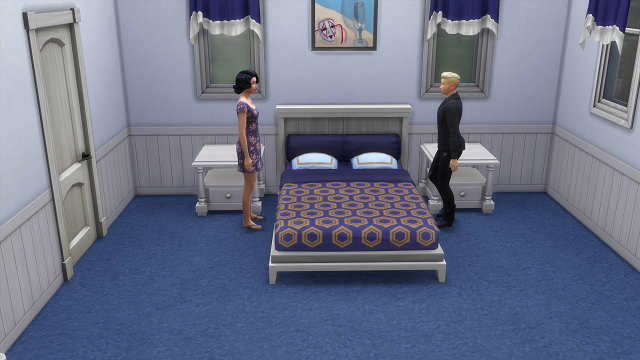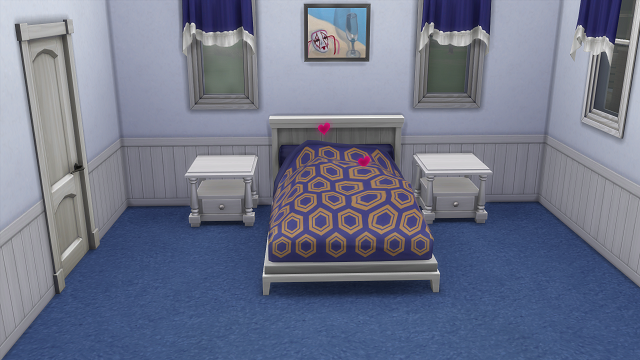 We end this update with Zoey and her new husband breaking in their new bed. Will there be a baby? You'll just have to wait and see. Until next time!